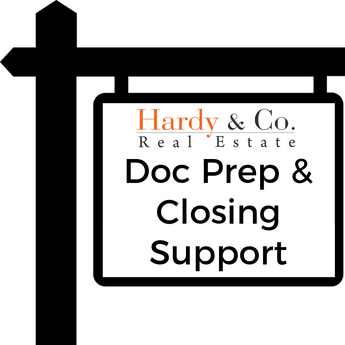 Document Preparation and Closing Support - For an Unlisted Residential Property
Regular price $395.00 Sale
Document prep fee of $395 is due at the time of starting the work;
1.00%* of sales price due at closing.
If the transaction does not close, for any reason, we retain the $395 document prep fee.
*Subject to a minimum fee at closing of $3,000.
This program has been designed specifically for buyers and sellers who are looking to buy/sell an unlisted residential property. We facilitate and help with every step of entire transaction!
Transferring the ownership of a property has become increasingly complex. Lenders are scrutinizing paperwork, legislators are continually adding new disclosure requirements, and staying in compliance with the new rules and regulations is becoming more and more difficult. We are a fully licensed brokerage & REALTOR versed in the intricacies involved in selling property. We working in the trenches every day and stay current with the changing requirements.
When you use our Document Prep and Closing Support Service, not only do we ensure that all the documents are prepared correctly and that the required disclosures are made, we also become your partner throughout the transaction. Our service goes beyond just completing forms - we are here to answer questions, provide advice, and help in any way we can from the very beginning through closing.
Our Document Preparation and Closing Support Program Includes: 
Consultation with the buyer and seller to learn each party's goals.
Prepare the Purchase Agreement and any other required documents.

We then arrange for the buyer and seller sign the documents electronically.

Prepare a set of informational documents and notices.
Prepare an estimate of closing costs for both the buyer and seller.
Supply the seller with the Property Disclosure Statement.

The seller will complete this disclosure and we will then deliver it to the buyer and have the buyer sign/initial the document to acknowledge receipt.

Prepare and deliver any other required disclosures, including:

Lead Based Paint Disclosure
Tax Levy Disclosure
Homeowners' Association or Condominium Owner's Association Disclosure
Public Improvement District Disclosure
Ordinances that municipalities may require to be delivered

Deliver the fully executed agreement to the title company.
Coordinate delivery and deposit of the earnest money into the escrow account.
Coordinate the title search and title insurance commitment.
Review and discuss the title work with the buyer/seller.
Obtain proof of funds and/or the lender pre-qualification letter from the buyer.
Assist with inspections, buyer's objections to the inspections, and resolution to inspection objections. This can include, but is not limited to, the following inspections:

General home inspection
Pest (termite) inspection
Dry rot inspection
Septic inspection and Environment Department Certification
Well inspection
Well water quality testing
Mold and environmental inspections
Sewer scope
Radon testing

Coordinate and assist with document delivery, buyer's objections to documents, and resolution to objections. This can include, but is not limited to, the following documents:

Road documents
Water rights and well documents
Lease agreements
Permits
Restrictive covenants
Road agreements

Coordinate the survey of the property and/or the review of a prior survey and work with buyer and seller on resolving any potential objections to the survey.
Review the closing documents and settlement statement, prepared by the title company, to be sure closing costs were allocated as per the purchase agreement.


We use only approved Real Estate Association of New Mexico documents, that are not available to the public, throughout the transaction.
How to get started: 
Download our contract questionnaire HERE - the questionnaire should be completed, as much as possible, by the buyer and seller. Of course, if you have any questions, please don't hesitate to contact us. Remember we are here to help.
Pay the document preparation fee by adding it to your cart (top of this page) and then check out.
Upload a scan of the completed questionnaire HERE.
If needed, we will contact the buyer and seller to get any additional information and start drafting the documents. Typically, we can have a property "under contract" within just a day or two of receiving the questionnaire.
This program is perfect for: 
Property owners looking to sell their property to a tenant.
Tenants looking to buy the property they are living in.
For Sale By Owner (FSBO) sellers who have found a buyer and need to have the sale formalized.
Families looking to sell a property to a family member.
Estate sales.
Trustee sales.